Brush rake attachments are primarily used to pile up heavy forest debris as part of active thinning, harvesting, and removal projects
Key takeaway
Brush rakes are attachments for the front of a wheeled or tracked machines that are used to push woody debris and large vegetation into piles. They are typically used as part of active, labor-intensive thinning, harvesting, removal, and restoration projects—not to rake large areas or clear live brush.
Reviewed content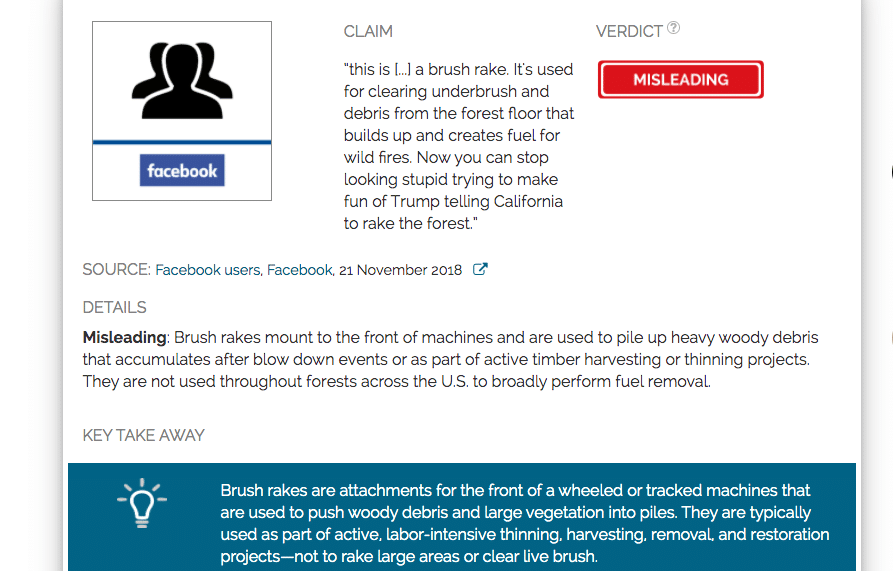 Claim:
Verdict detail
Misleading: Brush rakes mount to the front of machines and are used to pile up heavy woody debris that accumulates after blow down events or as part of active timber harvesting or thinning projects. They are not used throughout forests across the U.S. to broadly perform fuel removal.
Full Claim
Review
The claim appeared alongside the photo below in a Facebook post that was published in November 2018 and recently shared widely on the platform. To date, the post was shared 84,000 times, according to the social media analytics tool CrowdTangle.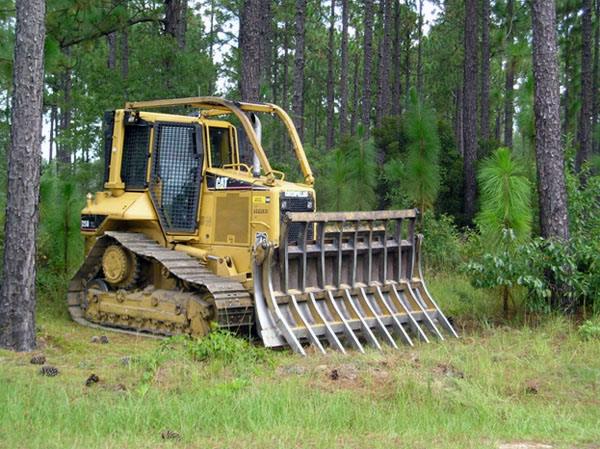 The post states, "this is what a United States Department of Agriculture Forestry Service calls a brush rake. It's used for clearing underbrush and debris from the forest floor that builds up and creates fuel for wild fires." A brush rake is an attachment for the front of a wheeled or tracked machine that is used to push woody debris and large vegetation into piles. According to the USDA Forest Service, raking is "the process of pushing slash or residues into piles, generally windrows, with a brush rake or a towed rake implement." In forestry, slash and residues refer to woody debris that are left in the forest after a logging or timber harvesting event.
Brush rakes are typically used in active thinning, harvesting, and reforestation projects, as the USDA Forest Service described in an email to Climate Feedback:
"Brush rakes are attachments, usually on bulldozers but can also be attached to smaller skid-steers or even rubber tired tractors. In Hazardous Fuels work they are typically used to create machine piles when there is very heavy fuel loading such as after a blow down event or after timber harvest or thinning where there is a lot of large, woody material on the ground; they can move the material into piles or windrows so they can be disposed of later, usually by burning the piles. Unlike a standard blade that would also move the soil, the brush rake mostly just moves the vegetation and while the machinery does disturb the soil, it does a better job of not removing the soil than using a conventional blade. Leaving the soil on site is critical for replanting or reseeding in areas where reforestation is desired."
While the post might imply that brush rakes are used throughout forests across the country to clear woody debris, their use is limited depending on the terrain and vegetation type. As the reviewer describes below, brush rakes are often used in the southeastern U.S. to clear rapidly growing hardwood trees. In contrast, it is difficult to use brush rakes to manage fuel loads in some regions of the western U.S. where the topography is steep and the vegetation differs.
As Christine McMorrow, Resource Management Communications for CALFIRE stated in an email to Climate Feedback, "Brush rakes are used to remove brush to both prepare for reforestation, but also to reduce fuels. They aren't used much on the fireline, but I've seen them around. They have a role and can be useful in very brushy areas. CAL FIRE has a few that are used in the Southern Region."
Overall, the post accurately refers to the attachment as a brush rake, but misrepresents the contexts in which it is most often used and incorrectly implies that it could be used to significantly reduce fuel loading across California.
Scientists' Feedback
Research Ecologist, US Forest Service
The picture is of a brush rake attachment on the front of a D4 Caterpillar tractor, which is used to reduce fuels in the SE US (the reason why it's pictured amongst longleaf pine). It doesn't get much use in the western U.S., including California, because the topography is generally steeper (limiting where it can operate) and fuels are different in the SE where rapid regrowth, particularly of hardwoods, means you need something that can comb and rip the regrowth out.
In the western U.S., brush rakes are a tool commonly used in the construction of fire lines, where the litter and duff are raked away to expose mineral earth. It's called a McLeod rake.
In sum, the mental picture and definition of a brush rake differs between the southeastern and western US, in part because fuels are different and because of operational constraints.