Conspiracy theory about the deaths of alternative medicine practitioners ignores evidence, misrepresents certain doctors
Key takeaway
Conspiracy theories alleging that the pharmaceutical industry is targeting alternative medicine practitioners to silence them have proven to be popular and enduring on social media. By extension, these conspiracy theories imply that alternative medicine is more effective than conventional medicine, thus posing a threat to the pharmaceutical industry's profits. However, claims that practices in alternative medicine provide effective treatments generally lack reliable supporting evidence derived from rigorously conducted research
Reviewed content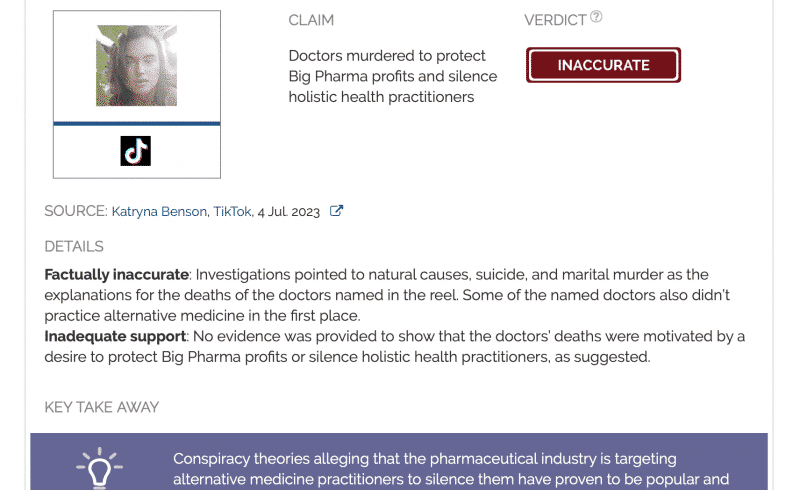 Claim:
Verdict detail
Factually inaccurate: Investigations pointed to natural causes, suicide, and marital murder as the explanations for the deaths of the doctors named in the reel. Some of the named doctors also didn't practice alternative medicine in the first place.
Inadequate support: No evidence was provided to show that the doctors' deaths were motivated by a desire to protect Big Pharma profits or silence holistic health practitioners, as suggested.
Full Claim
Review
A TikTok video published in early July 2023 implied that doctors practicing alternative medicine were killed to prevent "Big Pharma" from losing money. In the reel, herbalist Katryna Benson, who has more than 14,000 followers on TikTok, presented a Fox 4 news segment on the deaths and disappearances of several doctors from July 2015.
Benson followed up by claiming "They're coming down hard because Big Pharma is losing money" and added "I'm not suicidal, my friends in holistic health are not suicidal, but we need to stand up, because this, this is going to get us all killed".
The video was viewed more than 34,000 times on TikTok, while a post of the video on Facebook was shared more than 26,000 times.
Benson's claim isn't new. Conspiracy theories alleging that doctors who practiced alternative medicine were murdered to protect "Big Pharma" profits can be traced back to at least 2015 and have continued since then, according to multiple fact-checks by Snopes over the years.
However, there's no evidence that the doctors discussed in the news segment were murdered to protect "Big Pharma", and some of the doctors named in the video didn't practice alternative medicine in the first place.
Rashid Buttar
The latest round of such claims could be motivated by the recent death of Rashid Buttar, a physician who claimed vaccines cause autism and promoted COVID-19 misinformation. Buttar's death was referenced in the reel's text: "RIP Doctor Rashid Buttar".
Buttar was disciplined by the North Carolina Medical Board twice for unethical conduct, first in 2010 and the second in 2019. In 2013, he was issued a warning by the U.S. Food and Drug Administration for selling inadequately-tested medication. In 2021, he was named as one of the "Disinformation Dozen"—key spreaders of vaccine misinformation on social media—by the Center for Countering Digital Hate.
In February 2023, Buttar, who was unvaccinated against COVID-19, claimed he had suffered a stroke because of "vaccine shedding" by vaccinated people, something that cannot occur with COVID-19 vaccines. His death in May 2023 of undisclosed causes triggered claims that he had "died suddenly" (an anti-vaccine dog whistle) and that he had been murdered to protect the mainstream medical establishment, Vice News reported.
However, Buttar's account in a book titled "Poisoned: A Deep Dive Into The Mass Bioweapon & Envenomation Agenda", indicates that he had been seriously ill since at least 2016, with symptoms suggestive of heart disease, long before COVID-19 vaccines existed. The book was written by documentary filmmaker Jonathan Otto, who also worked with two members of the Disinformation Dozen, Ty Bollinger and Joseph Mercola.
That Buttar's unnamed illness could have contributed to his passing wasn't accounted for in conspiracy theories about Buttar's allegedly "sudden" and unexpected death.
Jeff Bradstreet
Investigations haven't turned up evidence that the other doctors named in the reel died as a result of a Big Pharma conspiracy.
Like Buttar, Jeff Bradstreet was a physician who promoted various alternative treatments for autism, which he incorrectly claimed was due to mercury poisoning from vaccines. One such treatment he used was chelation therapy. However, there's no evidence that chelation therapy, which is used to treat heavy metal poisoning, cures autism. Apart from the absence of any benefit, it carries its own risks: a five-year-old boy with autism died of cardiac arrest related to chelation therapy[1].
Bradstreet had also provided testimony in the Omnibus Autism Proceeding. His autism research was criticized by one of the Special Masters overseeing the proceeding as lacking in rigor and providing unreliable results (see page 101 of the Special Master's Decision). In addition, Bradstreet's questionable treatment of a paediatric patient also came under the spotlight. For instance, Bradstreet had ordered numerous tests to be performed, "many of which were non-standard tests not approved by the FDA, or ones performed outside the U.S." (page 231), and some of which necessitated invasive procedures, such as lumbar punctures.
As the website Quackwatch pointed out, despite the tests showing no mercury toxicity in his patient, Bradstreet nevertheless administered chelation therapy to his patient for mercury toxicity.
The decisions for all six test cases, handed down by three Special Masters between 2009 and 2010, unanimously concluded that there was no causal relationship between vaccines and autism.
In June 2015, Bradstreet was found dead in the Rocky Broad River in North Carolina, reportedly after the U.S. Food and Drug Administration conducted a raid on his clinic. A 2015 Washington Post report stated that the raid was related to potential contamination of a blood product called GcMAF that Bradstreet had been marketing and falsely promoting as an autism cure.
The Rutherford County Sheriff's Office stated that Bradstreet died of a self-inflicted gunshot wound to the chest. This verdict was rejected by some, including Bradstreet's family, who alleged that he didn't commit suicide but had been murdered, despite the lack of evidence for this claim.
Teresa Ann Sievers
Teresa Ann Sievers, a holistic health physician, was found bludgeoned to death in her home in Bonito Springs, Florida, on 28 June 2015. Her husband, Mark Sievers, was convicted of first-degree murder and conspiracy to commit murder in December 2019. The two men he recruited to commit the murder were convicted of second-degree murder. According to the Associated Press, life insurance policies on Teresa Sievers and the couple's marital problems had motivated the murder.
Bruce Hedendal
Bruce Hedendal (misspelled "Henderdal" in the news segment) was a chiropractor who was found dead in his car in Boca Raton, Florida, on 21 June 2015. A report by Florida Weekly stated that "Authorities found no sign of foul play". Florida Weekly also reported that Hedendal "had appeared ill" at a sports event that took place shortly before his death, and he had "gone to his car to recuperate".
Patrick Fitzpatrick
Patrick Fitzpatrick was a retired ophthalmologist who went missing in July 2015. A news article reported that he suffered "from medical conditions that require medicine and could suffer from confusion. He also struggles with walking great distances and walks slowly". His remains were found in April 2018 in Willow Creek, Montana, with no indication of foul play reported by the authorities. There's no indication that he'd practiced alternative medicine, as claimed.
Jeffrey Whiteside
Jeffrey Whiteside was a pulmonary and critical care physician who went missing on 29 June 2015, shortly after a dispute with his wife. His body was found about a month later in Liberty Grove, Wisconsin; a handgun was also recovered at the scene. The Brown County Medical Examiner's Office ruled his death a suicide. Like Fitzpatrick, there's no evidence that Whiteside practiced alternative medicine.
Conclusion
In summary, this conspiracy theory links the unrelated deaths of several doctors in order to promote the idea that the pharmaceutical industry or the mainstream medical establishment is targeting doctors practicing alternative medicine. By painting these deaths as murders motivated by alternative medicine's threat to the medical establishment, it also implies that alternative medicine is actually more effective than conventional medicine at treating various medical conditions. But like the conspiracy theory itself, claims about the effectiveness of alternative medicine generally lack reliable scientific evidence to support it.
REFERENCES